What are dental implants?
Dental Implants can be used to replace individually missing teeth or as permanent anchors for partial or complete dentures. Implants are small titanium posts or screws that are surgically placed in your jaw to facilitate the permanent replacement of a missing tooth or teeth. Dr. Scroggins will work closely with your restorative dentist to determine the best treatment plan for your needs.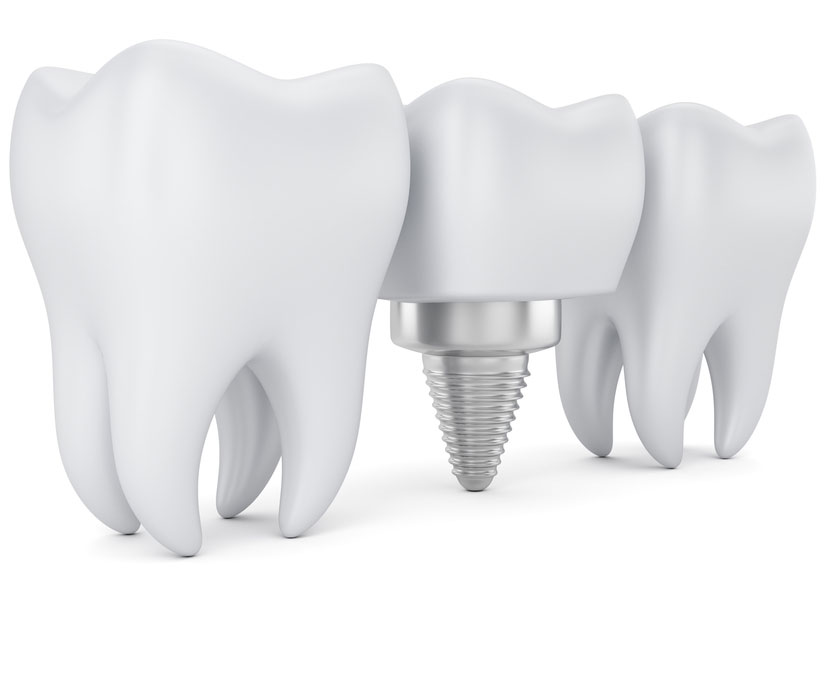 Why Implants Might Be Right for You
There are a number of reasons why you should consider a dental implant: Without the root structure of a natural tooth present, the jawbone can shrink. This shrinkage will make your face look older than it is. There are no loose parts to worry about losing. The dental implant is stable and comfortable. No adjustment is needed after placement. Normally, it will serve its owner for life.
With more than three decades of clinical experience and over a million patients treated, statistics confirm a success rate of nearly 95 percent for individual Nobel Biocare dental implants*, and even higher for the bridges they support.
*Results based on dental implants and dental bridges remaining and in function over a five-year period.
The Dental Implant Treatment Process
A successful dental implant requires that all parties involved — you, the patient; your dentist, who makes the crown for the implant; and Dr. Scroggins, who surgically places the implant, follow a careful plan of treatment. All members of the implant team stay in close contact with each other to make sure everyone clearly understands what needs to be done to meet your expectations.
Once the treatment plan has been determined, Dr. Scroggins will surgically place the implant in your jaw. In most cases the implant will be given time to stabilize and integrate with your jaw prior to the final crown being placed. Occasionally a temporary crown can be placed the same day as the implant for esthetic purposes, however you cannot actively use it for chewing until the implant has had time to stabilize and the final crown is placed. Your restorative dentist will take impressions and place the final crown once the implant has fully healed.
Frequently Asked Questions
Guided Implant Surgery
Technology offers advancements that were not available a short time ago. If you have been told that you have a "complicated" case or are "too high risk" for certain procedures that may change. With modern 3D imaging and implant treatment planning software, Dr. Scroggins can use a CT scan of your mouth and virtually place implants with pinpoint accuracy before a surgery even begins.
Once the treatment plan is approved, custom surgical guides are manufactures that match your exact oral anatomy. The guide ensures that dental implants are placed in the exact location as planned. Once the implant is in place, your surgical site will need to heal. Once the healing phase has concluded, Dr. Scroggins will uncover the implants and attach abutments, which will be the anchors for your new crowns. The whole process may take up to six to eight months and causes little to no interruption to your daily life.